Rank Roofing specialises in building production plants and components for manufacturing concrete roof tiles. In this field of activity Rank Roofing can fall back on many years of experience in planning, engineering, commissioning, as well as, in producing concrete roof tiles.
Rank Roofing's aim is to work together with clients to determine and realise the optimum solution for them. For the solution to the task at hand, Rank Roofing use a combination of standard components and client-specific constructions. In all cases, Rank Roofing endeavor to undstand he client specific task at hand, to analyse it an to realise the best possible solution while considering the economical factors involved.
Rank Roofing's concrete roof tile production machines are constructed to operate under extremely high extrusion pressure. For a concrete mixture with a minimal amount of moisture, this is absolutely essential.
High extrusion pressure affects the quality of the concrete roof tile and the amount of raw material as following:
A high desification of the concrete during extrusion increases the breaking strength
Accordingly, a relatively dry concrete mixture increases the bearing capacity of the roof tile.
An increase in the bearing capacity allows for a reduction in roof tile thickness, which in turn reduces the weight and saves on raw material
A dry concrete mixture and a high desification are important pre-requisites for a smooth roof tile surface, whereas a wetter mixture causes the so-called orange peel effect.
The relative dry mixture also needs less drying time.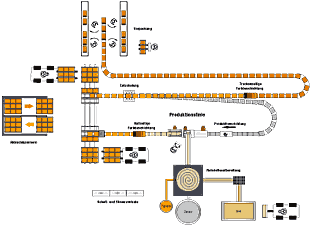 Another special feature of Rank Roofing propulsion unit is the sub-mounted cam disc drive with connecting rods for the infeed of the aluminium pallets. This propulsion system is completely enclosed and runs in an oil bath. An oil change is required after approximately 10,000 hours in operation or latest after 4 years. Rank Roofing has consciously decided to use this type of drive system for production machines for reasons of quality assurance.
The infeed of the aluminium pallets by means of a chain drive system shows substantial desadvantages:
After a certain amount of production time, the chain elongates and must be replaced.
The elongation of the chain affects the cutting length and respectively the cuting accuracy of the roof tile.
Maintenance is more time consuming (cleaning, lubricating and tighting of the chain, as well as constant adjestment of the cutting blade if at all possible).
For more information, you can visit official website of Rank Roofing Machines GmbH here or email us for more detail.